Jackpot slots have the ability to make you a millionaire overnight and it comes as no surprise that players opt for jackpot slots to try bring home the gold. As mentioned in other pages, jackpot slots come in two forms, progressive jackpots and fixed jackpots. Their mechanics are slightly different, but both pack a serious dose of entertainment with their stunning graphics and high quality audio.
Here at Unibet, our players have a choice of 399 online slots to choose from and finding your favourite game can be a daunting task, however, the games are divided accordingly and you can choose to filter by "Jackpots".
Progressive Jackpots
Some players prefer the 'go big or go home' strategy, which is ideal when playing progressive slots. As a matter of fact, to trigger the progressive jackpot, you'll need to have the 'max bet' option active, otherwise, the spin won't qualify.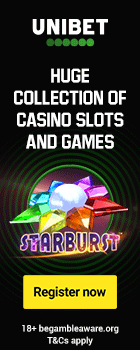 How Progressive Jackpots Work
A microscopic percentage is taken from every spin which contributes towards the progressive jackpot. And this is not just limited to Unibet players. Each progressive jackpot player contributes to a collective pot which in turn, makes the player thank his lucky stars that he played the progressive jackpot on the right day and at the right time.
Every time a player makes a bet the jackpot increases in size. These jackpots can be worth millions of pounds at a time and when they are won, it resets back to its standard level. Then, the process of building up the jackpot starts all over again. Progressive jackpot slots can be run over a network, which means that if several casinos offer the same jackpot slot, the same prize is available at all casinos offering the game. This means that the top prize may not be won from any online casino. The online slots Mega Moolah, Mega Fortune Dreams and Arabian Nights are a few jackpot slots available to play at Unibet.
Fixed Jackpots
Fixed jackpots vary form progressive jackpots not only in the jackpot sum, but also in the way they operate. The jackpot sum is fixed and doesn't increase according to how many people are playing, no matter how many times, or how frequently they are won.
The jackpot amount of fixed jackpots are usually considerably smaller than those of progressive jackpots but are won much more frequently. When playing fixed jackpot slots, you won't need to have the option 'bet max' enabled to trigger the jackpot, as it's always calculated on the amount you bet multiplied by the multiplier.
It is however worth mentioning that when you are playing a fixed jackpot slot game, you can actually win more than the maximum base game jackpot listed on the pay table and to do this you need to put into play more than one coin per spin.
Always read through the pay tables attached to any casino game as by doing so you will discover just how much you can win on each game you play. If you don't read the pay table you may put into play the incorrect amount of coins to win the highest jackpot.